31 foot Cruising Yacht by SHE for sale
Price:
£8000
Phone:
07971 010186
Alternate phone:
A Sparkman and Stephens designed sailing sloop, with a black GRP hull, teak deck, beautiful lines and shape. Fully equipped for sailing, roller reefing and GRP/Radar installed 2011. New Nanni 21 hp engine and seacocks. Down below: 4 berths, leather upholstery, cooking galley,separate toilet and washing area.
Definitely still for sale on:
30 November 2023
(The owner confirmed the item was still for sale on this date)
Located:
Newry
View larger map
(not exact location)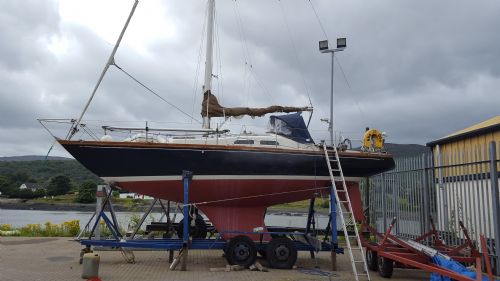 Changing your own adverts
If this is your advert, you may need to log in before you see links to change the details. If you have a password for the Y&Y forum, please log in (see box in top right).
Otherwise please see the email we sent you on 28 August 2018 entitled 'Y&Y classifieds...' for the links you need.
Resend email
Search classified adverts
Magazine appearance
This is an example of how adverts look in the magazine: